PCD - Polycrystaline Diamond Tools
PCD - Polycrystaline Diamond Tools
---
Cutting Tools
---
Industry Leader in PCD Technology

Keystone Engineering was the first company to bring PCD tools to the surface grinding market, changing the industry forever. PCD tools last up to 40 times longer than carbide tools, and can increase forward production speeds by five times in many grinding applications.
PCD Solutions for all Grinding Applications

Keystone drum systems can be adapted to any OEM grinding machine. No machine is too small or large, from walk behind grinders with limited horsepower to full lane milling machines with 1,200 horsepower.
Pavement Marking Removal and Inlays; Milling & Micro-Milling; Banana Cuts and RPMs; Surface Preparation; Rumble Strip Grinding; IRI Improvement - Corrections; Skid Resistance; Maintenance Grinds.
Make the Switch to PCD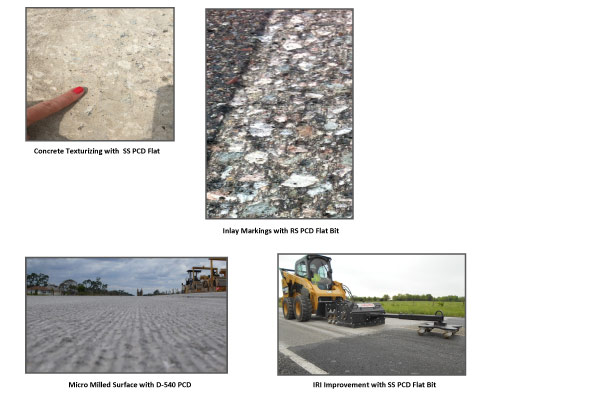 Increase Production Rates - Keystone grinding drums use Keystone's proven angles of attack that require less energy than flail cutters and stackable blade removal systems. Optimizing cutting efficiency allows for more demanding grinding with less hosepower and improved fuel efficiency.
Reduction in Maintenance Costs - Reducing vibration during the cutting process decreases the amount of wear and tear on the grinding machine at large, decreasing the amount of breakdowns and costly replacement parts.
Decrease Costly Downtime - Keystone's PCD cutter tools outlast carbide tools up to 40 times, keeping the grinders in the cut.
Smoother Surface Finish - Keystone PCD cutters are precision machined to maintain a smooth and uniform surface pattern.
Longer Lasting Systems - Keystone drum systems will last up to three times longer than stackable blade systems and up to ten times longer than flail systems.
Large Selection of Cutter Tools - Keystone has the largest selection of PCD tools on the market and they come in a variety of sizes to make sure the right tool is available for any job.
Improved Working Environment - Reducing vibration and labor hours to change worn cutting tools will improve operator's work environment.
PCD - Polycrystalline Diamond Tools - Keystone has a large selection of PCD tools in stock. Please call Keystone direct to discuss the best tool for your milling application. 317-271-6192
---
---